What Will We Become? (Happy Hallowe'en!)
Oct. 27, DarkSyde published a Science Friday diary interviewing me and displaying three possible options I depicted for humanity's future... based, of course, on the relative wisdom of our actions today.
Unfortunately the large image option was not available... so here they are, larger, with DS's captions.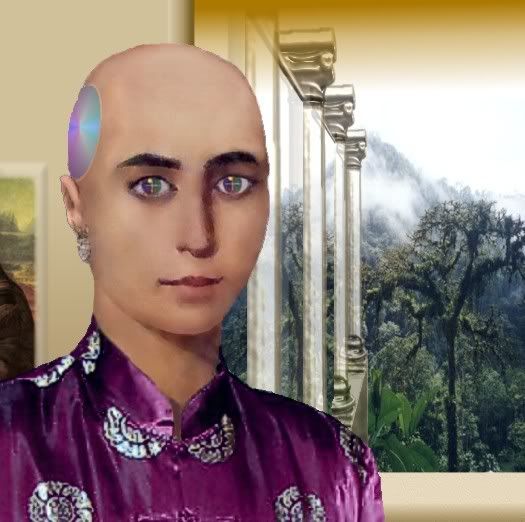 Hypatia II, 2150 AD. She lives in a virtual and a real world integrated as one, with all the information of every library on earth in her head. The body is remade and maintained by nanobots, unless seriously injured beyond repair, she will live a thousand years. The large artificial eyes and the sensors on her occipital region detect all types of radiation and sound as well as a future version of the Internet, all processed by an enhanced visual cortex. IOW, when she looks at the forest behind her, information about the species and ecology is overlaid on to her vision along with acoustical ultrasound imagery.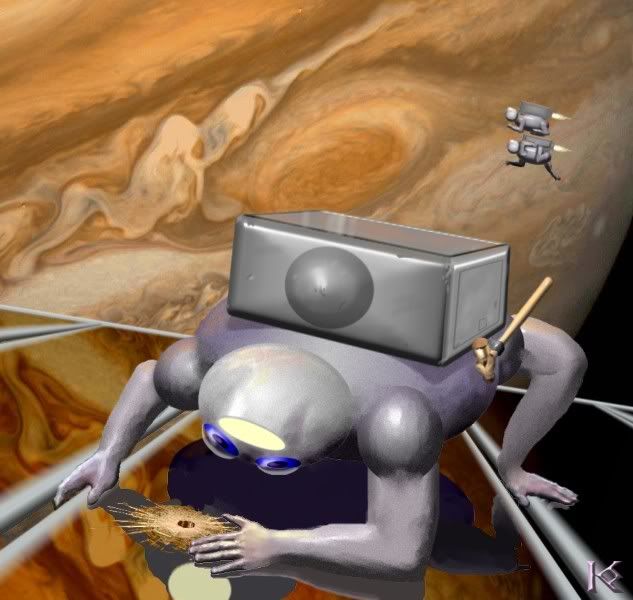 Robo-sapien 3000 AD is an AI/Human hybrid built for deep space. His/Her 'skin' is an advanced living carbon composite which can feed directly off of everything from starlight to radiation. The immense processing 'brain pac' features a stand alone IQ of over 800 and is linked to a larger collective stretching across the solar system. Robo is shown here working on a superconducting mesh encircling the planet Jupiter which produces antimatter. This image was done in a few minutes using computer graphic techniques.
(DS and I must have got our wires crossed here... it took more than a few minutes.)
Five million years in the future. After the hypothetical fall of humanity, post-humans have radiated into many open econiches left by an extinction event of their own making. These post-humans are brutes; expensive brains have been downsized. They're also being herded by another recently evolved critter: That thing about to pounce is the hypothetical future descendant of the common rat. This piece was done using odds and bits inspired from other illos around the Internet.
I couldn't figure out how to make "Ratty's" fur look white in such a dark image, else he'd be descended from lab rats...